Happy Trails!
Mid-February found me on the road, heading to historic Williams Arizona...final destination: The Grand Canyon.
This would be my second visit to the Canyon...having done so back in 1973. At that time a friend and I camped out near the Canyon's rim in the month of May. This time it was still winter and Williams was wet from the recent rains, with some snow spotted here and there.
This trips was a special one, my Mother had never seen the Grand Canyon, and after years of hard work and caregiving..and the eventual passing of my Father, I felt it was time for her to get some fun out of life.
We checked into the grand Fray Marcos Hotel. Later that evening we had our dinner at Ted and Thelma's that is adjacent to the Hotel and the Train depot. There was a small version of the train that makes the daily trip to the Canyon running above the diner's heads and around the entire dining area that is quite big.
Early the next morning found us having breakfast and then checking into the train depot all set for our trip. Among the crowd were cowboys and gals in full western dress, part of the aura set for the travelers that day, one of a scene of times past..people getting ready to take off across the vast high desert for adventure.
We were riding that day in the first class car, and were served a continental breakfast and serenaded by strolling cowboys. The folks traveling along with us, were a friendly bunch and the trip was punctuated by meeting one another, conversation of travels past and future, and sharing of our differing points of origins, be it from the same state, out-of-state or out-of-country! We had allot of laughs and pointed things we would spot as we slowly chugged our way across country.
Arrival found it raining and cloudy and as we left the train and loaded into the buses, we all kept our fingers crossed that the sun would find it's way through the thick clouds. Our driver was upbeat and funny and kept us hopping at a fast pace with his tales of the Canyon and stopping when there was a break in the weather so we could oohh and ahhh over the vast beauty before us. A stop for lunch, and then back sight-seeing,
Thankfully the sun broke through and the rest of our trip was of breath-taking vistas and visiting the gift shops and historical spots.
Wearily at the approach of evening, we all once again boarded the train to head back to Williams...we were served champagne and hor de vours ..and again visited by singing cowboys and a 'robbery' that was quickly quelled by the local Sheriff.
At the halfway point, it began to rain, then hail, then snow! We watched as the countryside turned white, and leaned back to watch the scene and rest from our full day...but that wasn't the end of our surprises...the train slowed, and then stopped! We were informed by our cabin host Jo , that the engine had had one of it's components blown and we would have to wait for an engine to be sent from Williams to come rescue us! So tales were shared, we watched it snow harder and harder....and then 'lo ! the train slowly lurched forward and we were on our way once again.
Evening found us dining and gathering around the vast fireplace at the Hotel, and watching the landscape disappear under the blanket of drifting snow. Children built snowmen and threw snowballs, I think, more delighted by the snow, than the train ride and Canyon!
The following morning found us picking our way through the snow to breakfast and some shopping at the great gift shops at the restaurant and train depot. So many native Indian crafts to look at and purchase, it was hard to decide among them all, and what friends would get what mementos.
Later that morning we headed to Flagstaff, then back, passing through Williams once again and on down Hwy40/66, through snow flurries and rain.
We came upon the Grand Canyon Caverns and turned off the main highway to seek them out and came upon a remnant of the good ol days of route 66: a low slung diner with concrete dinosaurs and teepees and inside, vinyl booths and soda fountain. In the large gift shops was an elevator that took us down some 277 feet below the surface and Nadine our guide took us on a 45 minute walk, climb, through the tunnels and caverns, all in all allot of fun and very informative! Makes me want to revisit Carlsbad Caverns in New Mexico and check out the newly opened caverns in southern Arizona! (another trip!)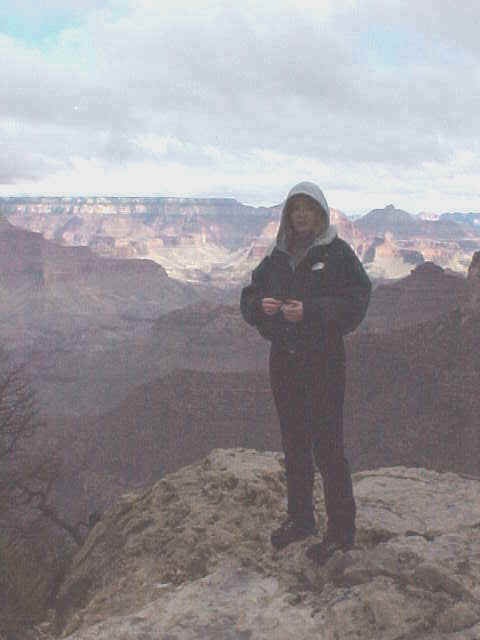 Next, Mt. Everest! A MILE you say?!!!!


No artist can compete with Mother Nature!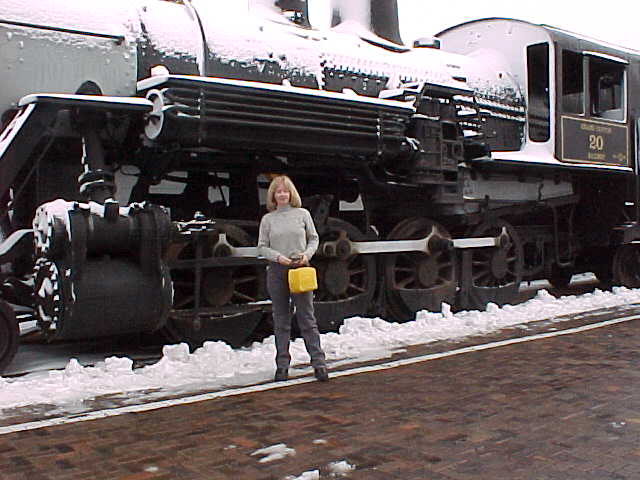 There is just something about trains....you sure I can't drive this one huh?
Mom says: " Give me a warm fire!..nothing like a walk-in fireplace!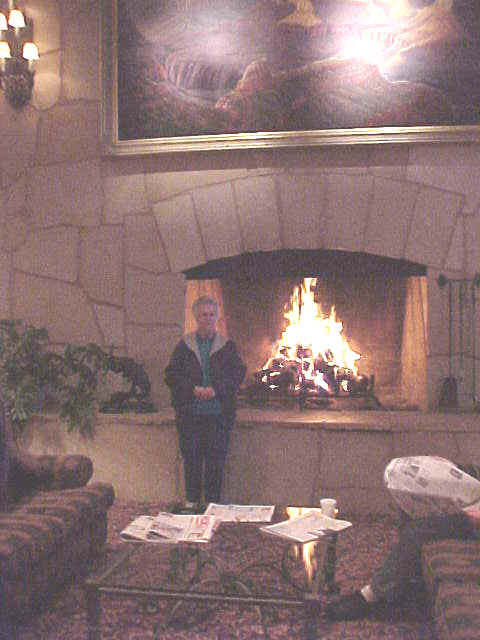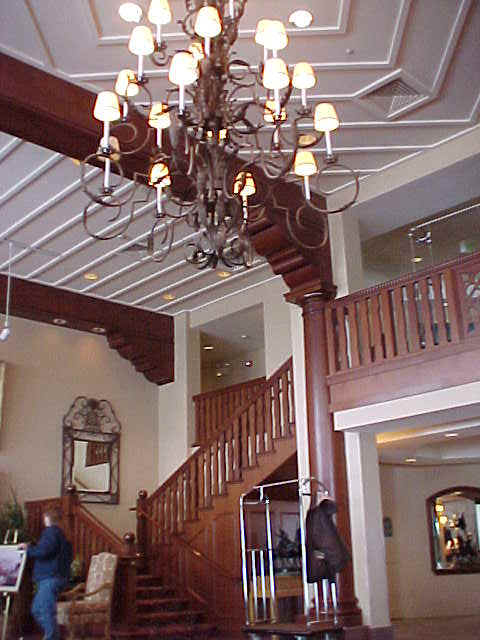 Fray Marcos Hotel, Williams AZ.

September Festivities
Home
Links Page